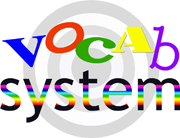 I CAN'T REMEMBER A WORD!!!
No problem.

VirtuAule English Language System is pleased to announce a new resource that will be offered to students for a limited time at no cost. The new resource is a learning system to increase your vocabulary without memorizing long lists. VirtuAule will help you to ACQUIRE words in a natural and interesting way.

How does it work exactly?

Each week for 3 weeks you will learn 15 new words so at the end of the period, you will have learned at least 45 and possibly up to 135 words.

It's easy. You only have to listen to about 7 or 8 words (not memorizing) a day. There is a checklist of the words of the week and an exam at the end so you can verify your progress. In reality, you will learn a word, a synonym and an antonym of the same word.

Along with the checklist, you will find: a list of words for the day with the definition and phonetics transcription of each word. a synonym and an antonym (opposite meaning) of each word each word used in a common sentence a test for the end of the week.

You will find 3 tracks (MP3) per week (total 9 tracks) each containing key words. You will learn the key word by listening to:
a slow phonetics reading (to let you repeat the word well) 

a reading at normal speed

a synonym and an antonym (opposite meaning)

a sentence containing the word

Learn the words easily without any memorization. At the end of the week, there is an exam.
Who should use it? Intermediate or Advanced Learners who are struggling with this very common issue and if you want to speak English more fluently and naturally.
Ready to start?
Go to the First Lesson!
The course has also been prepared as a series of videos.